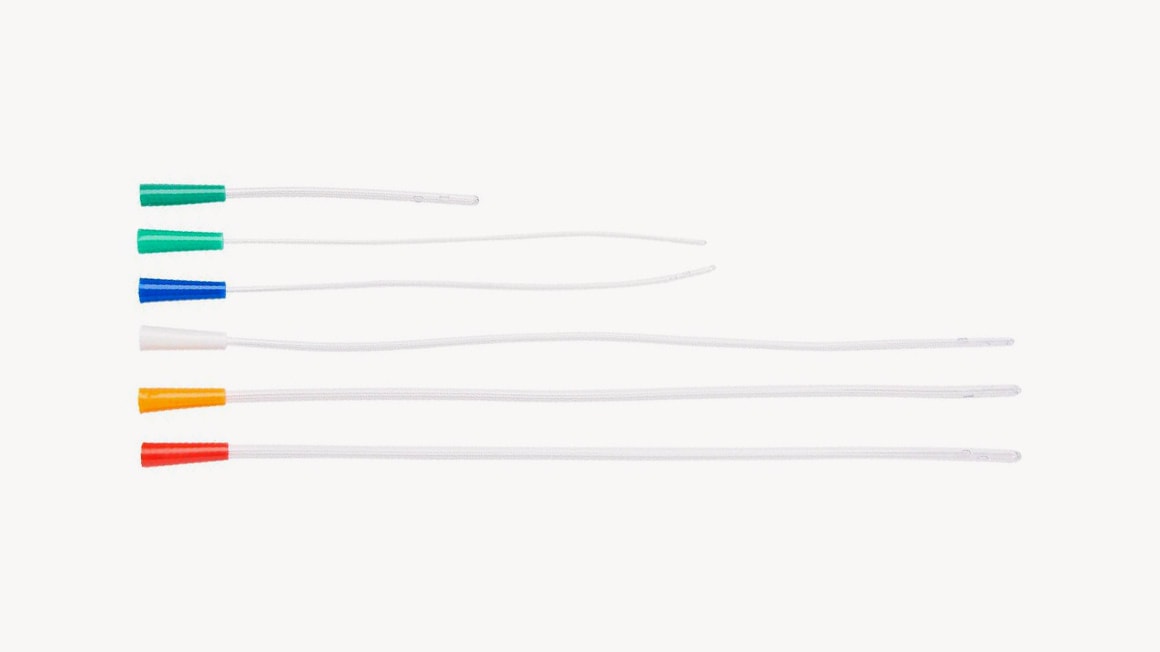 Catheter FAQs
Have questions regarding intermittent catheterization and its products? Check out our FAQs to answer any questions you may have.
Which urinary catheter products are offered by Liberator Medical™?
Liberator Medical™ offers various types of catheters; indwelling and external, male and female, and multiple styles. Liberator Medical™ also has access to one of the largest urinary catheter inventories in the U.S.


Can you assist me in selecting a urinary catheter that is best for my individual needs?
Although it is your healthcare professional who chooses the type and number of your catheters, our product specialists will work with you in finding the best products for your individual needs. We'll also help you reach out to your physician if you need to renew your prescription.


How much will my monthly supply of urinary catheters cost?
Liberator Medical™ will bill your insurance directly and let you know of any out of pocket costs. We handle all insurance paperwork and billing for you, taking the complexity off your hands.


Do I need a doctor's prescription to receive urinary catheters from Liberator Medical™?
You will need a prescription from your doctor in order to receive your monthly supply order with us. We can also contact your physician for you if you need to renew your prescription.


Will my insurance cover the cost of my monthly catheter supply?
Each insurance plan is different, so please contact us today to verify your insurance coverage and any out-of-pocket costs you may have.


What insurance plans does Liberator Medical™ accept?
Liberator Medical™ is in-network with over 3,000 insurance plans including Medicare and private insurance, and we're adding additional plans every day! Our specialists will inform you if Liberator Medical™ is an in-network provider with your insurance plan.


Do I have to pay shipping costs or delivery fees for my supply orders?
We provide free standard shipping for your supply order.


How will you deliver my monthly supplies?
We have standard free shipping & delivery, delivered discreetly right to your home or alternate location.


How do I reorder my urinary catheter supplies when I need more?
You can contact our product specialists to place your reorder. Go to www.liberatormedical.com/register to get started with Patient Hub to manage your account and re-supply orders online.


I am concerned about allergies and reactions to some materials, chemicals or lubricants. Do you have a urinary catheter selection that helps me avoid these issues?
We have choices from multiple catheter companies, including catheters not made with DEHP, BPA or Natural Rubber Latex.


I don't want people to easily notice my urinary catheters. Do you offer more discreet or compact catheters?
We have multiple types of catheters, including those that are about the size of a lipstick and those that offer men discreet portability by easily fitting in most pant pockets.


What brands of urinary catheters does Liberator Medical™ offer?
Currently representing many of the top brands, we offer free samples of innovative products from the leading manufacturers. You can be certain you're using the best products for you and your lifestyle.


Which types of urinary catheters do you carry?
Liberator Medical™ offers various catheters including straight tip, coudé tip, hydrophilic, pre-lubricated, compact, closed system, red rubber, external and foley catheters.


What is a closed system catheter?
Some intermittent catheters are enclosed in closed systems consisting of what is known as a "no-touch" sleeve that allows insertion of the catheter by the patient or medical professional without needing to ever touch the catheter itself, therefore maintaining sterility of the catheter.


Why would I need a coudé catheter?
In order to qualify for a sterile intermittent catheter with coudé tip, you must have medical documentation of one of the following criteria:

Unable to maneuver a straight tip catheter due to a stricture.

Anatomy is such that a straight tip catheter is ineffective in passing through the urethra and a curved tipped catheter is required to conform to the patient's anatomy.

Enlarged prostate gland creating an obstruction that requires a coudé tip catheter.

The use of a straight tip catheter causes pain, discomfort, and bleeding during use, therefore the patient requires a coudé catheter that passes through the urethra without harm.

Obstruction of the urinary passage which requires a coudé catheter to maneuver around the obstruction with ease.

What is a suprapubic catheter?
A suprapubic catheter (tube) drains urine from your bladder. It is inserted into your bladder through a small hole in your abdomen. You may need a catheter because you have urinary incontinence (leakage), urinary retention (not being able to urinate), surgery that made a catheter necessary, or another health problem.


Are you able to supply if I'm on home health?
Depending on your specific plan benefits, we may be able to provide your supplies while you are on home health. Our specialists will contact your health plan to determine if you are eligible to receive supplies when you have home health benefits.


How many catheters will my insurance cover?
The number of catheters you can receive monthly varies according to your insurance and your physician order. However, with Liberator Medical™ our insurance specialists provide you with the help you need to maximize your benefits.


Do you carry urinary drainage bags?
Many of the brands of catheters we carry include an integrated urine collection bag.


How do I request samples?
You can contact one of our product specialists to request samples. Our specialists will help you get samples from the leading manufacturers to find the catheter that's best for you.


What is the best way to reorder my supplies?
Liberator Medical™ offers free re-order reminders so that you never worry about running out of your medical supplies. You can also go to www.LMSmart.com and place your reorders online once you are enrolled.


Do you carry incontinence products?
Yes, we have additional incontinence solutions available. Contact our product specialists to learn more.
How We Serve Our Customers Differently

We're more than just medical supplies. Learn how we provide the services you need to find the best product for you.

Catheter Tips & Guides

Fit, comfort, discretion —with catheter care, you probably have a lot of questions. Our Tips & Guides is a great resource.

Contact a Specialist

Our specialists are trained to address every delicate question or concern.

Call now: 855-948-3319